Interested in a Custom Fitting?
Our Professionals Paul and Darryl have a wealth of experience in teaching and fitting golfers of all ages and experiences. Here at Cleethorpes, we have a brilliant Custom Fitting offering, which is run by our Assistant Professional Darryl.

Using our Flightscope technology, we can analyse various bits of data such as swing speed, ball speed, and spin rates to help us improve your game and ensure that the equipment you use is suited to you.

We have also recenrly installed SAM PuttLab technology to help us improve your putting. This is part of a wider overhaul of the indoor coaching and fitting facilities that we have here at Cleethorpes GC, ensuring that they remain amongst the best in the area. We are always looking to improve our facilities and have also recently included a new touch screen for video analysis too!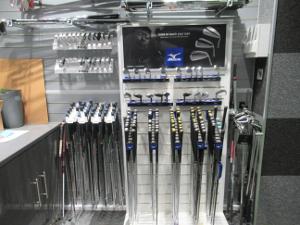 By using Flightscope, SAM PuttLab and state of the art video analysis, we can analyse every small detail of your game, from your grip and stance, to your swing, and your position at impact.

We also have plenty of fitting equipment available from top brands such as:

PING, TaylorMade, Mizuno, Cleveland, Srixon, Callaway, Scotty Cameron, and Vokey.

Here's what you can expect from a custom fitting with Darryl here at Cleethorpes Golf Club.

"With the Swing Studio, we have been able to take our club fittings to a new level.

I will only ever fit clubs that best suit an individual, so start with a blank canvas by using The Mizuno fitting app to work out the best shaft for each individual. Then it is down to a combination of which head creates what the buyer most covets; is it distance, is it feel, is it accuracy or is it as much of the three as possible?

Once I have fit to my satisfaction off the mat in the studio it is important to let the pupil take the clubs away to see performance off the turf, and if we need to refit thereafter we will do so.

No rush, when you are spending your hard earned dollar, I want it right for you!"

Our tariffs for fitting sessions and studio use are as follows:

- 1 hour SAM PuttLab Putter Fitting £40 (get £20 OFF any Putter purchased from this session)
- Fitting session for other hardware FREE
- 1 hour Studio lesson with video analysis £40
- 1 hour SAM PuttLab lesson £40

Get in touch with us to find out more and book a fitting.