The Pro shop is at the heart of all things Cleethorpes, with myself, Paul Davies with colleague Rob Goodway having 70 years plus experience between us within the golf trade. Our Ebay shop is run by Alex and we are happy to sell any used branded clubs to u
---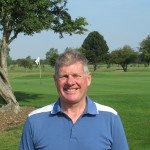 Paul Davies - Head PGA Professional
My history with Cleethorpes began in February 1978 under the watchful eye of Eric Sharp. An eight year spell at Belfairs in Southend was followed by my return, firstly under Eric again, and then as head of the ship for the last 20 years.
---
Robin Goodway - Assistant PGA Professional
Rob has an extensive history of working in many different environments, with spells in Cornwall, Belgium, Germany, Denmark, Brighton, before moving to our sunny area in Kent. His vast experience has proved most welcome within our club, and our great friendship has blossomed further.
---
Alex Mickleburgh - Assistant PGA Professional
Alex has recently graduated from the University of Central Lancashire with a BA (Hons) in Golf Performance and Coaching. He is currently undertaking his PGA training whilst with us and has previous experience working for the European Tour in the Costello Masters Championship in Spain and Dunhill Championship at St Andrews.
---